TOOTHPASTES
It is undoubtedly true that toothpastes are the main players amongst oral care products. In this regard, Grupo Boniquet Sparchim offers to the market a wide assortment of this type of product from different points of view: organoleptically, phisically and functionally. BIO Ecocert Cosmos Organic certified products por BIO products by Ecocert according to Cosmos Organic Standard and some other innovative solutions for matching any consumer need. Check our wide and innovative range of products.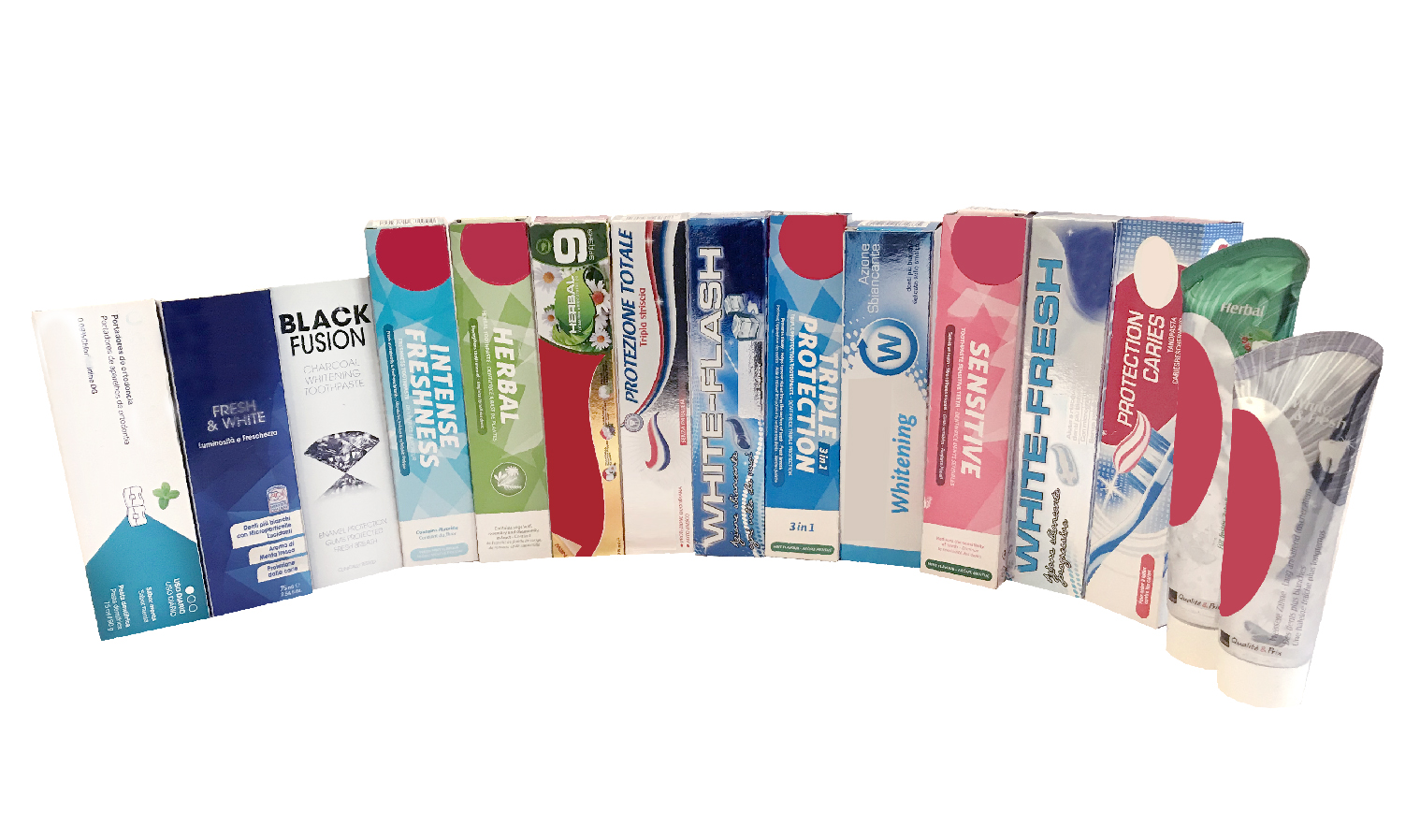 WHITENING
Certainly, tooth whitening is one of the most important and highly demanding segments amongst the end consumers. GBS offers the latest innovations in the market such as charcoal toothpastes, products that combinate the whitening action with other benefits like gums care, fresh breath…, formulas based on optic white…. And all this with a wide portfolio of textures, colors and packagings
TOTAL CARE
Products that offer a total oral care. Formulas containing active principles to guarantee a multifunctional performance: whitening, cavity & enamel protection, gum care, fresh breath, antiplaque and anti-tartar … GBS offers also the possibility to have formulas with 3 colors as the market leaders do.
SENSITIVE
Tooth sensitivity is one of the most delicate oral problems that consumers deal with. GBS has a strong experience in developing formulas to minimize this type of inconvenients. Like in the rest of categories, GBS has a wide portfolio of formulas and textures to offer a solution against teeth and gum sensitivity.
KIDS JUNIOR
One of the market segments that have had a stronger growth for the last few years. All kinds of flavors, colors and textures. At GBS we care about the children by offering a wide portfolio of formulas covering all ages. Children are the future consumers and so we must take good care of them.
BIO / HERBAL
Without a doubt one of the market trends with higher growth. Consumers take higher and better care of themselves and so they search for healthy and sustainable products. At GBS we offer a wide range of BIO Ecocert Cosmos Organic formulas containing more than 98% of natural ingredients. New consumers must be also well considered for the future.
ORTHODONTICS
At GBS we don't forget all those consumers that use orthodontic appliances and so they need specific solutions for their dental health. In this regard, we also offer specific formulas providing the necessary active principles to keep a healthy dental care. Basically, these formulas are specially developed in terms of texture to let a quick access of the product through the orthodontic devices.